Covid-19 deaths could be twice as high over the winter as they were in the first wave of the pandemic, PM Boris Johnson is expected to warn MPs later.
In a Commons statement he will say there is "no alternative" as he seeks to win support for a planned four-week lockdown in England from Thursday.
But Mr Johnson will explain he was "right to try every possible option" before ordering people to stay at home.
Labour has said it will back the lockdown but criticised the delay.
Mr Johnson announced at a Downing Street news conference on Saturday that strict measures will include closing pubs, restaurants, gyms, non-essential shops and places of worship.
However, Housing Secretary Robert Jenrick confirmed that moving house will still be allowed during the restrictions, adding that removal firms, estate agents and tradespeople can continue to work but must follow Covid safety guidelines.
Chancellor Rishi Sunak told BBC Radio 4's Today programme that the UK-wide furlough scheme, which had been due to end on 31 October, was extended until December "to give businesses that ease at this difficult time".
He said it was his "expectation and hope" that the English lockdown would be "sufficient" to "exit back into the tiered approach" in a month's time.
Business Secretary Alok Sharma defended the government's lockdown decision at the Confederation of British Industry Annual Conference on Monday, saying: "The cost of inaction would be greater than the action."
'No alternative'
In his address to MPs, due in the House of Commons at about 15:30 GMT, Mr Johnson is expected to say: "Models of our scientists suggest that unless we act now, we could see deaths over the winter that are twice as bad or more compared with the first wave.
"Faced with these latest figures, there is no alternative but to take further action at a national level."
Mr Johnson is expected to acknowledge that some MPs believe "we should have reached this decision earlier", but will defend his earlier policy of trying to control the virus with "strong local action and strong local leadership".
Prof Andrew Hayward, professor of infectious disease epidemiology at University College London, told BBC Radio 4's Today programme the forecast death toll data provided to the government included a "range of predictions".
"From the multiple models they are all really showing unacceptable levels of death and the fact NHS services will be overwhelmed within weeks," he said.
The prime minister is due to tell MPs that the government will "seek to ease restrictions" on 2 December and return to the current three-tier system.
On Sunday, Cabinet Office minister Michael Gove said the lockdown could be extended if it took longer to bring the transmission rate of the virus down.


Those around the prime minister say he sees a moral and medical responsibility to act, in order to avert disaster.
The thrust of Boris Johnson's argument in the Commons later will keep returning to the data presented to the country on Saturday night: the range of projections, all bleak, about the grim consequences of doing nothing.
But he'll face sharp, and opposing, questions from behind him, on his backbenches, and opposite him, from Labour and others.
Among the swirl of questions there is testing and tracing, the furlough scheme, the prospect of the English lockdown being extended and an exit strategy.
Lives, liberties and livelihoods: the intensely difficult decisions, with a huge amount at stake, are not going away.


What are the new restrictions in England?
People will be told to stay at home except for specific reasons
These include work which cannot be done from home, childcare or education, exercise outdoors, medical reasons, essential shopping, providing care for vulnerable people or for volunteering, and visiting members of your

 

support bubble
Meeting indoors or in private gardens will not be allowed, but individuals can meet one other person from another household outside in a public place. Children under school age and those dependent on round-the-clock care who are with their parents do not count towards the two-person limit
Non-essential retail will close, but can remain open for click-and-collect delivery
Pubs, bars, restaurants will have to close, but can still provide takeaway and delivery, excluding takeaway of alcohol
Indoor and outdoor leisure facilities, such as gyms and swimming pools, will also close, along with entertainment venues and personal care facilities such as beauty salons
Places of worship will close, unless they are being used for funerals, to broadcast acts of worship, individual prayer, formal childcare, or essential services such as blood donation or food banks
Construction sites and manufacturing workplaces can remain open
Weddings and civil partnership ceremonies will not be able to take place except in exceptional circumstances, and funerals will be limited to a maximum of 30 people
Children will still be able to move between homes if their parents are separated
Clinically vulnerable people will be asked to be "especially careful" but people will not be asked to resume shielding
Overnight stays, staying in a second home, and holidays will not be allowed – including in the UK and abroad – although there are exceptions, such as work trips
People will be told to avoid all non-essential travel by private or public transport


Former cabinet minister Esther McVey said she would vote against the restrictions, saying "the world cannot be put on hold" with the "disastrous effects" lockdown "brings to our lives".
Ex-party leader Iain Duncan Smith said the lockdown decision was a "body blow" and accused the government of "giving in" to scientific advisers.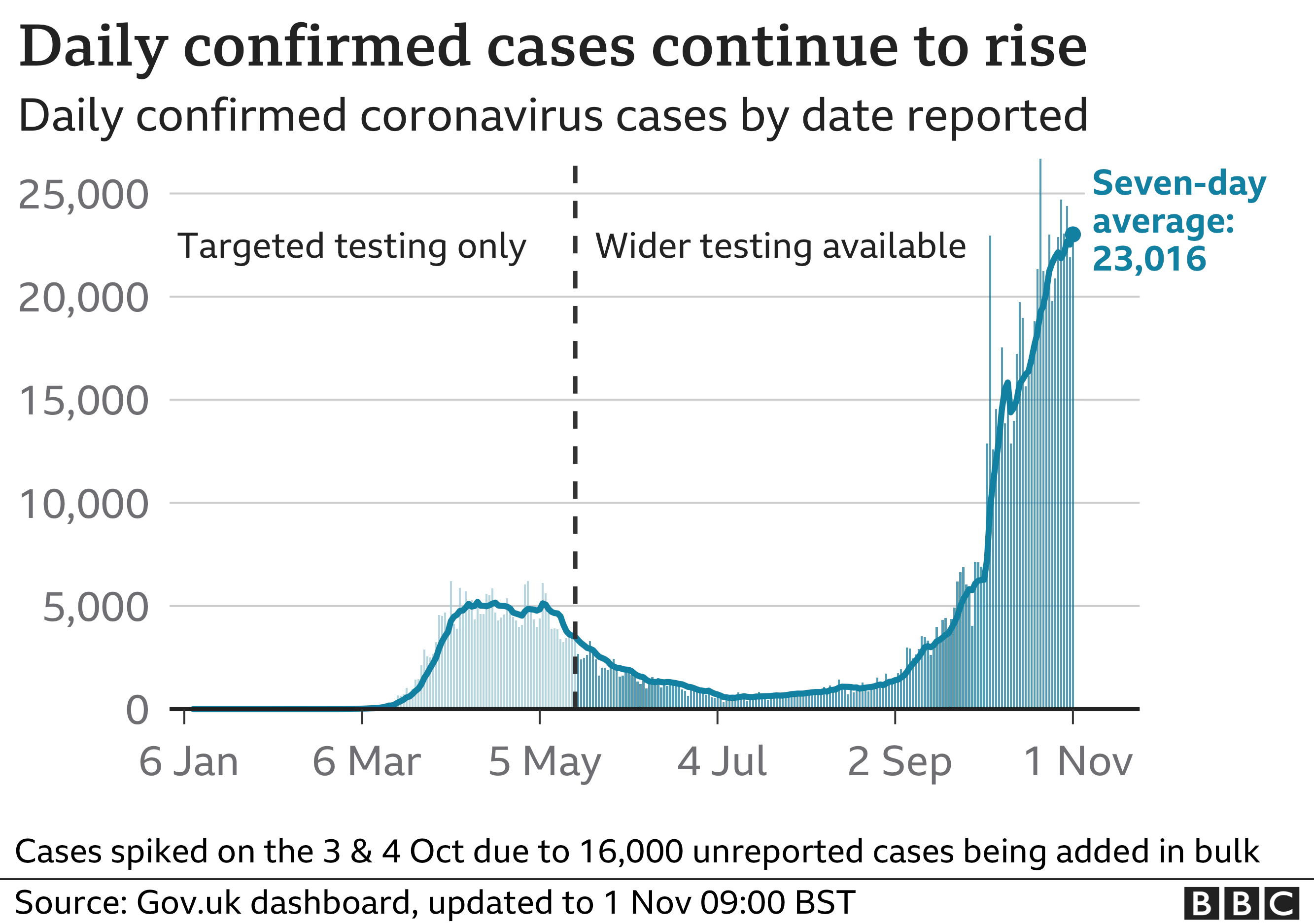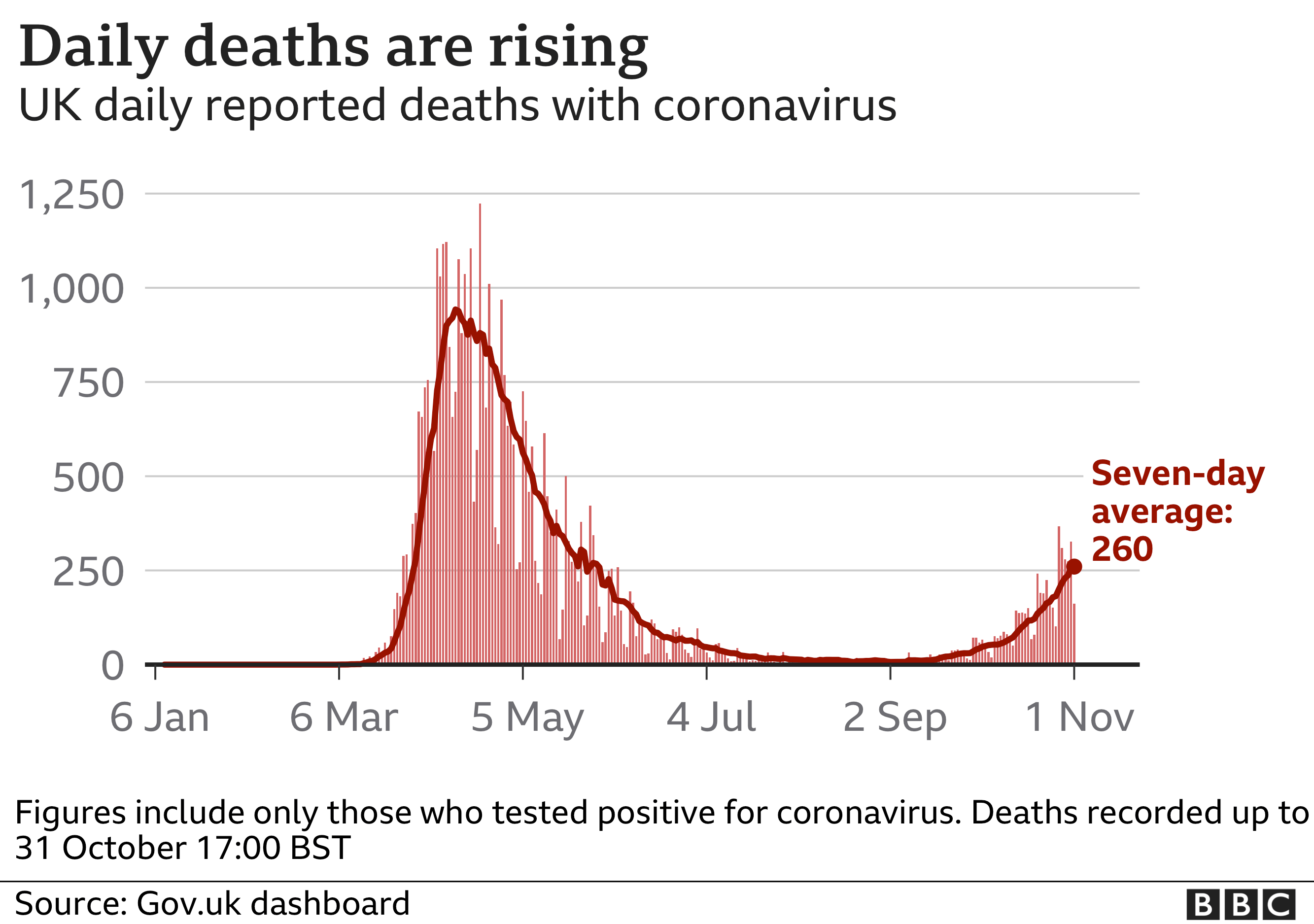 But the prime minister will have the support of Labour leader Sir Keir Starmer, who said the measures were "necessary" while criticising the government for delaying them and ensuring what would be a longer, harder lockdown.
On Sunday, the UK recorded 23,254 new confirmed cases of coronavirus and 162 deaths within 28 days of a positive test.
Source: https://www.bbc.co.uk/news/uk-54773196