People in England aged 70 and over, as well as those listed as clinically extremely vulnerable, will begin receiving offers of a coronavirus vaccine this week.
Prime Minister Boris Johnson said the move was a "significant milestone" in the nation's vaccination programme.
More than five million people – from priority groups three and four – will be invited from Monday to have the jab.
Health Secretary Matt Hancock will lead a Downing Street news briefing later, No 10 has said.
The UK has also now closed its travel corridors until at least 15 February to protect against "as yet unidentified new strains" of Covid.
The expansion of the vaccination programme comes after the number of people to receive a first dose rose to 3.8 million across the UK – more than have tested positive (3.4 million) since the pandemic began.
However, people in the top two groups – care home residents, those aged 80 and over and front-line healthcare workers – should still be prioritised for vaccinations, the Department for Health and Social Care said.
Nadhim Zahawi, the minister responsible for the vaccine rollout, defended the decision to offer Covid jabs to the over-70s and clinically vulnerable.
He told BBC Radio 4's Today programme on Monday that the over-80s "need not worry" if they hadn't yet been invited for a jab.
He said as it was only areas where the majority of the over-80s had been vaccinated that people aged 70 and over were being invited for jabs. He added that by today, 50% of care home residents should have been vaccinated.
He said that although vaccine supply remained "lumpy", he was "confident" of meeting the government's target to vaccinate all 15 million people in the top four priority groups by mid-February.
Mr Zahawi earlier told BBC Breakfast that his "very strong instinct" would be for workers at greater risk of catching the virus, such as teachers and police officers, to be offered a Covid jab once all nine priority groups have been vaccinated.
Mr Zahawi also said that he expected to see a "gradual" easing in coronavirus restrictions, potentially starting about two or three weeks after the most vulnerable groups had been vaccinated and had begun to receive protection from the jabs.
He said any lifting would be via England's previous tiered system, but added there were "lots of caveats" as it was not yet known what impact the vaccine would have on transmission.
A further 298,087 people received their first dose of the vaccine on Saturday, and Mr Hancock said half of all those aged 80 and over had received at least one vaccine dose so far.
"We are now delivering the vaccine at a rate of 140 jabs a minute and I want to thank everyone involved in this national effort," said Mr Johnson.
In a bid to meet the government's mid-February target, 10 new vaccination hubs are opening in England from Monday, to go with the seven already in use.


The new mass vaccination centres are in:
Bournemouth International Centre, Dorset
Taunton Racecourse, Somerset
Blackburn Cathedral, Lancashire
Salt Hill Activity Centre, Berkshire
Norwich Food Court, Norfolk
The Lodge in Wickford, Essex
Princess Royal Sports Arena, Boston, Lincolnshire
St Helens Rugby Ground, Merseyside
The park-and-ride at Askham Bar, York
Olympic Office Centre in Wembley, north London
The seven hubs already in use are in: Etihad Tennis Centre, Manchester; Epsom Downs Racecourse, Surrey; Robertson House, Stevenage; Centre for Life, Newcastle; Ashton Gate Stadium, Bristol; Millennium Point, Birmingham; ExCel, London.


He told BBC Radio 4's Today programme that Wales's supply of the Pfizer jab is not being used all at once as it has to last until a delivery in February.
"There will be no point, and certainly it will be logistically very damaging to try to use all of that in the first week and then to have all our vaccinators standing around with nothing to do for another month," Mr Drakeford said.
While the prime minster said the UK is making "huge progress in our fight against the virus", he also expressed concern about that progress being derailed by new – currently unknown – variants of the virus.
As such, he announced on Friday that, from this week, all travel corridors are to be closed.
That means that anyone arriving in the UK will have to quarantine. Under current rules, anyone flying into the country from overseas also has to show proof of a negative Covid test before setting off.
The developments come after the UK recorded a further 671 deaths within 28 days of a positive Covid test, and another 38,598 positive tests.
Daily totals for cases and deaths tend to fluctuate due to delays in reporting, but the seven-day average for deaths in the UK is currently 1,119; for cases, it is 46,231.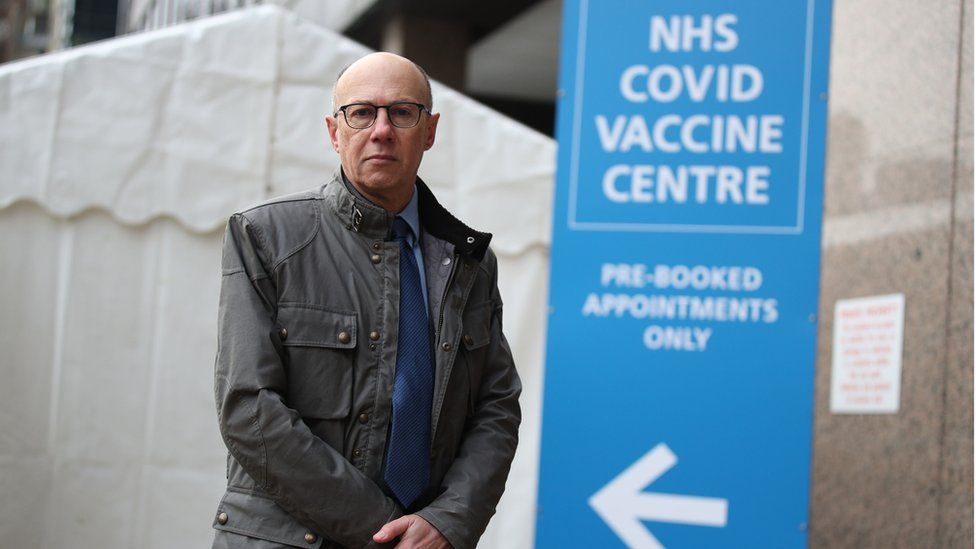 Meanwhile, Prof Stephen Powis, national medical director for NHS England, said the NHS had never been under the level of pressure it is now, in any previous winter.
Citing comments made by Sir Simon Stevens – the chief executive of NHS England – on Sunday, Prof Powis told BBC Breakfast: "As Sir Simon said yesterday, the NHS is undoubtedly in a precarious position at the moment.
"I don't think the NHS has ever been under such pressure in any winter, but our staff are responding magnificently."
He added that there were "signs" in London that growth and infection rates were "slowing" but it would take "several weeks" before it had an impact in reducing the number of people in hospital, warning that it would be "tough" over the next couple of weeks.
Speaking to the BBC on Sunday, Sir Simon said that some hospitals would open for vaccinations 24 hours a day, seven days a week on a trial basis in the next 10 days.
He added that someone was being admitted to hospital with coronavirus every 30 seconds, and since Christmas patient numbers had risen by 15,000 – the equivalent of 30 full hospitals.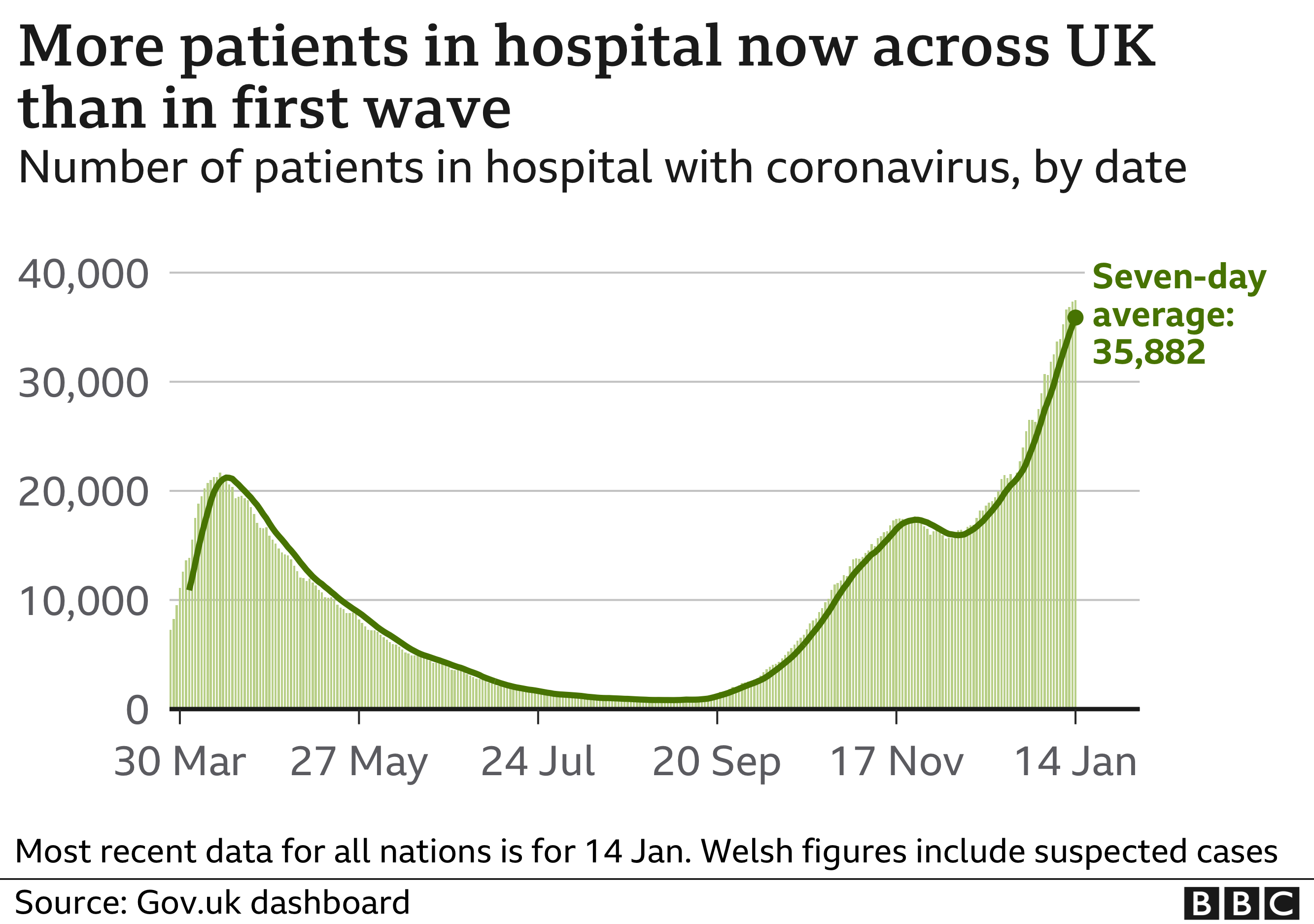 Asked about suggestions that some vaccination centres were having to throw away leftover doses, he said: "The guidance from the chief medical officer is crystal clear: every last drop of vaccine should be used."
He added many centres were finding they were able to get six doses out of a five-dose vial, and they should keep a reserve list of staff and high-risk patients who could be contacted to receive a vaccination at short notice.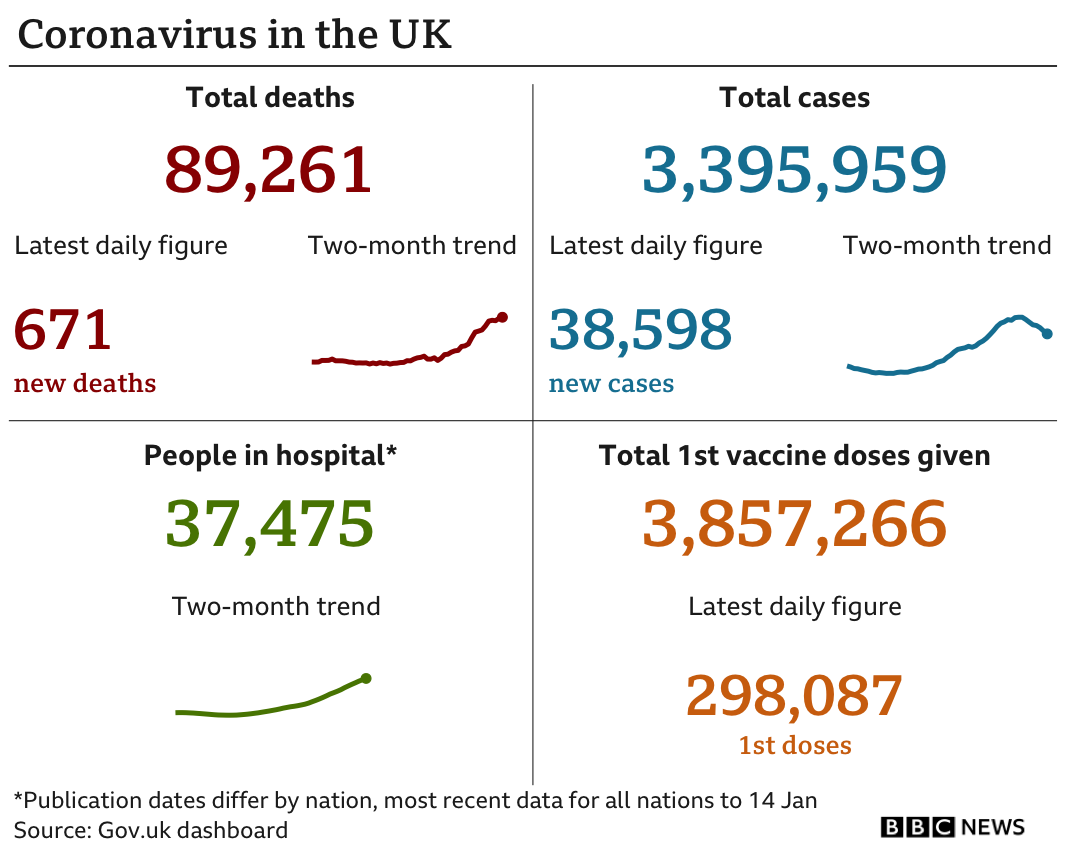 Foreign Secretary Dominic Raab, meanwhile, said that the UK was making "good progress" in ensuring every adult was offered a vaccine by September and "if it can be done more swiftly, that's a bonus".
Source: https://www.bbc.co.uk/news/uk-55698132