Imagine if, at the first coronavirus briefing in Downing Street last year, Boris Johnson had said that he would put limits on our lives and the economy for 15 months.
Imagine that he had, a week later, instead of saying that the tide could be turned in 12 weeks, said we should prepare for kids to be out of school, that most shops would be closed on and off for months, that families who don't live near each other might not be able to see each other either, that some of the most vulnerable would have to shield at home, from the disease, for all of that time.
You would hardly have believed it. He would hardly have believed it either.
The prime minister's trademark used to be optimism – accused often of bluffing over detail to hope for the political best.
Yet as Mr Johnson tries to steer the country towards the exit in the second year of this pandemic, that habit is not much in evidence.
He has accepted, at the insistence of the chief medical officer, there will be long gaps between the steps out of lockdown.
Also, despite the remarkable progress, and excited rhetoric around the vaccine, there was an important acknowledgement from Mr Johnson too, that it will never reach everyone.
The "significant minority" who will never take the vaccine will still therefore pose a risk.
And while he has repeatedly promised the steps out of lockdown will be "irreversible", inside government of course there is an awareness that is just not the case.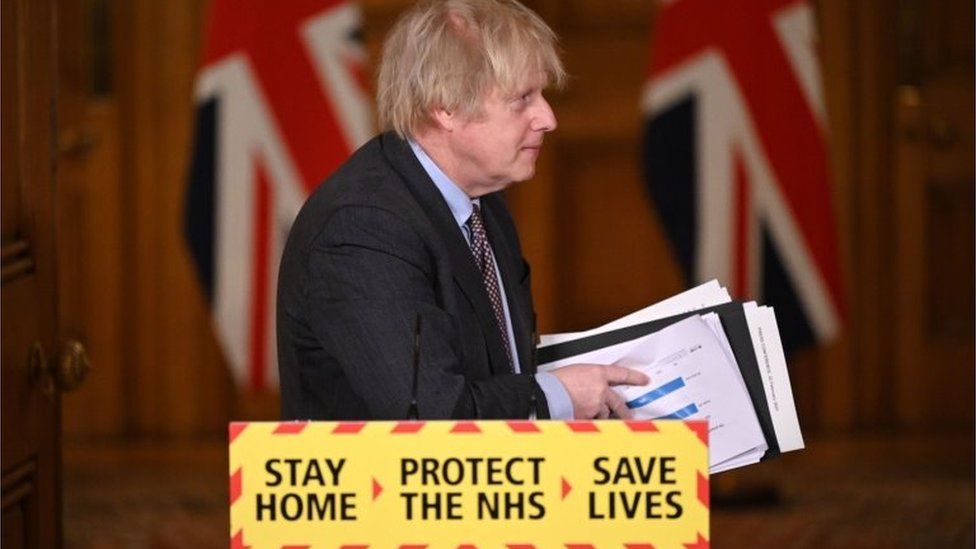 Everyone fervently hopes this is the last time but an aggressive and unforeseen variant of the disease could interrupt that plan.
Some massive upset with the vaccine rollout could knock things off course.
Even the limited easing up will lead to an increase in cases, and if that is more dramatic than hoped, the brakes could of course go back on.
Dramatic changes in the public's behaviour could also make a difference in the wrong way.
And the government also retains the right to bring back aggressive local lockdowns if infections surge in particular areas.
But Mr Johnson's strongest motivation for the go-slow is the determination that this national lockdown can, should, and will be the last.
With a belief too that much of the public will be perhaps not content, but willing, to wait that bit longer for a drink with friends if it means children can go back to school and stay there.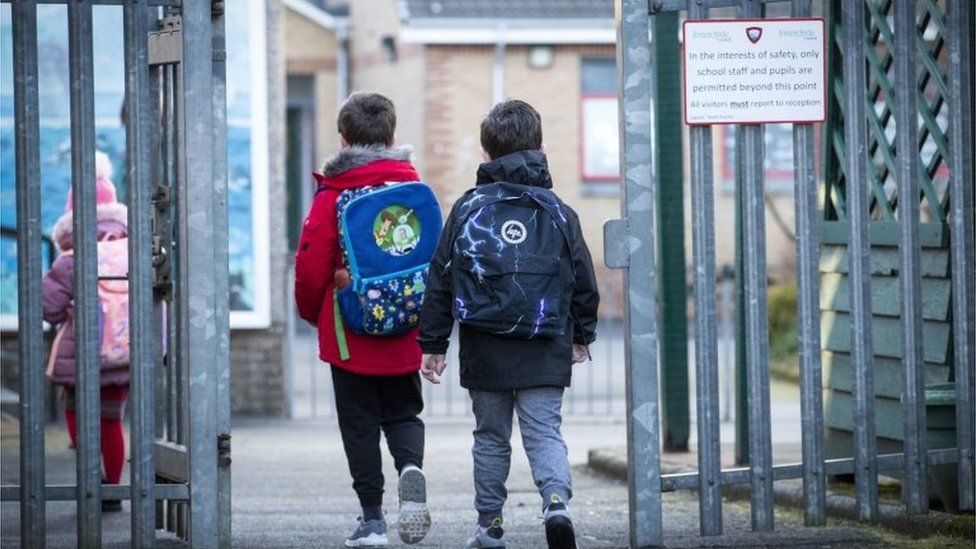 His calculation is that people, after all this time, will prefer certainty over haste.
That's why the prime minister won't be persuaded to go faster by some of his own restless backbenches.
That's why other parts of government, even those eager to pull back restrictions, worried about the costs of all this, concede to hurry would be wrong this time.
And that's why Mr Johnson, right now at least, is playing the role of a leader for whom caution is number one.
A mantle this long pandemic has lent him – a political persona that also, would have been almost impossible to imagine last year.
'Big gaps'
P.s. A huge amount of information did emerge today about the road ahead for England, but there were also really big gaps.
There was no firm advice on when the millions of people who have been working at home will be expected to go back into the office.
No solid expectations of when foreign travel will come back, when the social distancing rules could be relaxed, or whether the government might really introduce some kind of vaccine certification after all (despite previous suggestions that they would not).
Alongside the plans are several reviews that will shape much of what happens in the next few months.
The government, as well as Holyrood, Belfast and Cardiff, still has many big decisions to take.
Source:  https://www.bbc.co.uk/news/uk-politics-56158439